A well-designed survey, with the results effectively presented, can be a VERY powerful tool. In a time when people make generalized assumptions about what's going on in an organization, these surveys provide useful and reliable data to support a course of action.
Feedback Instruments
We call our unique feedback survey process the Skills Map. There are 2 main approaches to our Skills Map: one is designed to analyze an individual's skill set and the other is designed to collect group data (needs analysis, climate, customer satisfaction, team effectiveness, etc.).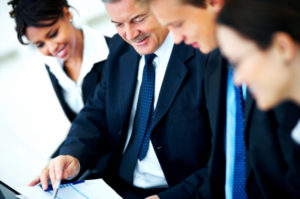 Individual Skills Map
Our Individual Skills Map is part of a computerized, skills assessment and feedback process which identifies an individual's areas of relative strength and areas that need improvement.
The surveys are easily customized for specific functional areas or to address particular business initiatives. They provide confidential, targeted developmental feedback that can be collected from individuals, managers, peers, staff members, customers, and suppliers.
We have electronic surveys that provide feedback in the following areas:
Reporting Results
Easy-to-read bar graph profiles can compare and contrast where individuals and the other respondents:
Differ on the skills that are most important for success
Agree on current skill strengths
Agree on the skills that are in need of improvement

Differ on the current level of performance
Employees receive Individual Profiles that identify the skills most important for job success as well as current strengths, skills to improve and perception gaps
Skills Map – Group Data
This tool allows you to collect group responses. It is flexible and can be configured for:
Climate surveys
Needs analysis
Customer satisfaction surveys
Team effectiveness surveys
Customization
We have always been proud of the flexibility of our Skills Maps. First and foremost, the actual survey items can be easily tailored to fit specific applications.
In addition, once the data is collected, it can be "sliced and diced" all kinds of ways with very little hassle and at a very reasonable cost. And for a small additional fee, the reports can be produced in beautiful living color. They can also be delivered to you electronically, in PDF files that you can then distribute.
Resource Guide
Feedback insights alone are insufficient for creating action steps to improve individual performance. For our Individuals Skills Surveys, we can provide a Resource Guide that suggests practical development activities for improving each skill on the Skills Survey. The Resource Guide provides managers and employees with a hands-on tool to discuss and create realistic and action-oriented development plans by identifying over 500 non-training tactics for improving performance.