In the past 20 years, CDL has helped leading organizations take a strategic approach to organizational change, employee development and leadership. Rather than coming in with our 'bag of tricks', we start inside your world. We start by taking a close look at how change and development impact your:
Business Strategy
Talent Retention
Leadership Style
Work Culture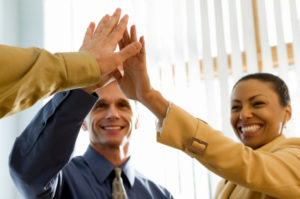 We tie our change, development and leadership efforts directly to your business strategy. This dramatically improves the chances of meaningful success. But we never forget that no matter how brilliant your business strategy may be, it's people who bring that strategy to life and make it a reality.
We use change and development initiatives as vehicles to generate understanding of and commitment to your business strategy at all levels of the organization. We also work to build the skills and abilities that are critical to successfully translate this strategy into tangible results.
The signature of our work is a strong bias toward action. We synthesize elements of your organization's business strategy into practical processes. We teach individuals at all levels of the organization how to break their change and development efforts into small achievable chunks—helping them build a series of personal successes.